---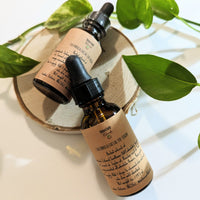 Facial Oil - Calendula Blend
sistersearthblends
Handcrafted in Ontario, Canada
Features:
Size: 1 oz /  30 ml
Color: Clear with a yellowish tint
Scent: Natural scent from calendula petals and oil blend, floral, sweet
Herbal infused oils
Highlighted Ingredients:
Calendula is great for promoting cell repair and growth. They are a natural antiseptic and have anti-fungal properties. It is great for skin prone to breakouts and is gentle on the skin. Calendula oil is known to speed up wound healing and this is one of the many reasons we have added this ingredient to our formulation. 
Ingredients:
Sunflower Seed Oil, Grape Seed Oil, Coconut Oil, Jojoba Seed Oil, Rosehip Seed Oil, Sweet Orange Essential Oil, Calendula Petals, Rose Petals.
How to use:
Add a few (3) drops of oil to the face following a regular cleansing routine. Massage into skin in an upward circular motion. until the product is absorbed
 **Although our products contain natural ingredients, please keep in mind that everyone's skin is different, and ingredients may react differently to certain skin types. Our products are not intended to treat, cure, or prevent medical conditions. If you are pregnant or nursing, please contact your physician before using products containing essential oils and carrier oils.